Coronavirus (COVID-19) Update
Click here to download Homefield's 'Wellbeing Web', a Covid-19 Support Tool for Children and Young People: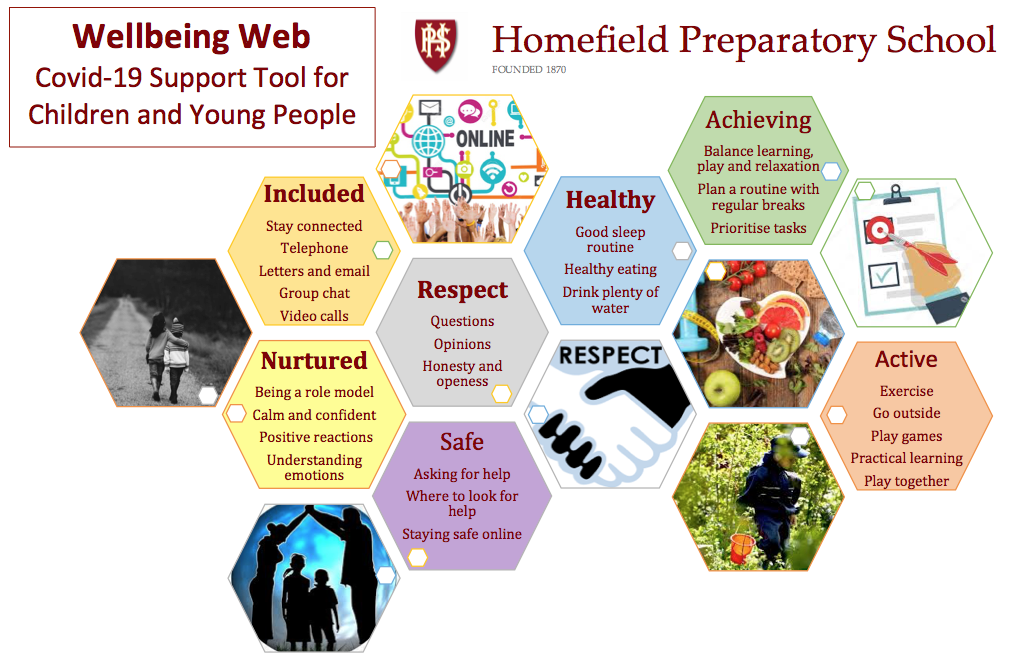 Friday 27th March
Important Announcement from the Headmaster
Dear Parents,
A message to end the term. Normally such a celebratory day but, in the context, let's share some items of note and some of hope.
In summary and in response to the coronavirus crisis, Homefield will:
Freeze fees for 2020-2021
Work with families under financial stress to try and maintain a place
Provide free key worker child care and mental health support over Easter
Extend online learning platforms providing live tutorial timetables with teachers
Firstly thank you for your continued partnership and understanding in light of how we as a school, a charity and as a community, adapt to the Coronavirus pandemic. Our priorities will continue to be the health, safety and wellbeing of the school community and the quality of the education of our boys. Schools are a glue holding communities together am I'm incredibly proud of how our staff have stepped up. Indeed, we see can workplace heroes across our country doing so much for others.
Firstly, we have taken the decision to freeze fees for next year. This will be a challenge for us, but we feel we can operate effectively and have fully accounted for this. We hope this helps all of our families. In some of the detail we will also be flexible; for example you will notice that we will not include the fees for lunches or minibuses, as the Government has not yet promulgated the return date for normal schooling.
As a charity we already have strong practice in giving scholarship and bursary support. For those families adversely affected we will have a fast track scheme in place, by end of April, to help you manage fees over the next year. We wish to minimise the number of families who might need to leave due to cash flow and will work with you to find the best solution. In China we understand around 10% of families dropped out of independent education due to the financial impacts of the virus, we hope we can prevent that from happening here.
Our hard pressed staff have continued to put themselves in the front line to keep the site open to provide 'key worker' child care this week. They have also volunteered to provide this, for free, during the Easter holidays and we have been in touch with parents that booked in for this. 'Hats off' to our lovely teachers, some of whom have been travelling for some hours on reduced public transport to look after your children.
By now you may have noticed the depth of well-being resources available on Firefly and Mrs O'Reilly, Head of SEND, is forgoing her holidays next week to provide emergency well-being and mental health live video calls for boys in need. If parents would like to avail this please email Mrs O' Reilly directly for a consultation slot. We will maintain engagement over the holidays, so look out for a letter from our Deputy Head on pastoral matters.
We've only had a few days of enforced closure to most pupils, but already our remote learning environment grows and deepens around and beyond the Firefly platform. The senior boys are well used to this platform and the younger boys have done well to adapt. I'm already seeing catalyst for change, for example rolling out our 'My Space' mental health sessions using Zoom live conferencing, likewise we've had some successful History and English tutorial groups and individual sessions for Music. The Maths department has started trials with boys on Microsoft Teams leading tutorials.
I sincerely hope that this is not for long, but we will continue to grow here, whatever the case. Should we have to remain closed after the Easter holiday we intend to put timetables in place to enable boys to join daily live tutorial and interaction groups with their friends and teachers. I can see some of the boys have been engaging with favourite subjects this week and that's fine for now, but I will expect more rigour and routine after the holidays. The boys will benefit from the rich social and educational interaction on offer.
If you have been following us on Twitter and Facebook you will already have seen some of the engagement with on-line learning this week and the creativity of our boys. Some deep learning and also some old fashioned care, I noticed Year 1 teachers sending letters in the post today, with sunflower seeds, to crack on with science. It's been good to see some of the feedback and outcomes from boys and families. Thank you boys for your lovely attitude and hard work.
On academics, several of my headteacher colleagues and exam boards have been adapting as matters unfold. I've already heard from schools such as Kings and Hamptons that any Common Entrance/Scholarship offers will not be impacted and that they will honour ALL place offers on the basis of my reference. Sensible and re-assuring; I'm sure most other schools will follow suit.
We will continue to react with agility and stay true to our strong ethics and expectations as a charitable independent School. Thank you again for the many lovely messages of support. Let's not pressure the boys too much at this point. It may feel very scary for them not being able to see their friends over the holidays, or visit extended families or enjoy that family holiday they were excited for. Please do use every opportunity to allow the boys to socialise 'virtually', I know many of them have already set up groups and are having fun with that. Let's push on resolutely, as a community and support each other. As each week unfolds we will learn, adapt and flourish within this adversity.
Take care over Easter. We will keep you updated.
Mr John Towers