Friday 23rd September 2022
Dear Parents,
Thanks for your patience over the last week. As the builders finish the new sports pitch surface we've been dismissing boys from the forecourt. We will soon enjoy the luxury of expansive space to the rear of the estate. Likewise, as we re-launched 'stop and drop' you have been most considerate. We can see some queuing in the morning so please do tuck in where you can to allow other vehicles to pass on the carriage way. Let's take care of our locality.
We have enjoyed a place within the community for over 150 years. Bob Last was a designer, artist and Vice-President of the Pastel Society. He lived across the road and is remembered for hand painting the first 'Homefield School' sign on our current site back in the 1960s. The old sign is long gone, but his legacy lives on with his art displayed in the School. He passed recently and his daughters launched an appeal to help Cancer Research. Do please join me in supporting this good cause: https://fundraise.cancerresearchuk.org/page/in-memory-of-bob-last?fbclid=IwAR0D4aFZXiEkaMgY6LbCaK1EGGPxLL4N8pFJHFaWfGYFZBWjtts15f2mq2Y
We have championed art and design for many decades. It provides such a joy for the boys and recent investments (such as the laser 3D printer donated by the Parents' & Friends' Association) has kept the curriculum vibrant. Graham Sutherland, one of Britain's finest early 20th Century impressionists, first found his fine art mojo as a student at Homefield back in the 1910s.

So, inspired by art professionals, it's now time for our own boys to shine. You may have noticed the large double height wall in the new entrance foyer. We have left it unadorned with purpose, for on Monday we launch a House Art competition for the seniors. We are looking for boys to create their own House crest for 2022. It will be based on heraldic design. The four winners, one from each House, will have their final design enlarged and mounted to make a new permanent display in the Foyer. A colour pop of creativity to hijack the attention of anyone walking into the School. A call to arms to emphasise our commitment to the arts. Mr Leung, our Head of Art and Design, will brief on details from Monday… but do please encourage your boys to start sketching out ideas.
Congratulations are extended to Andrew who takes on the role of Head Boy for the Autumn Term: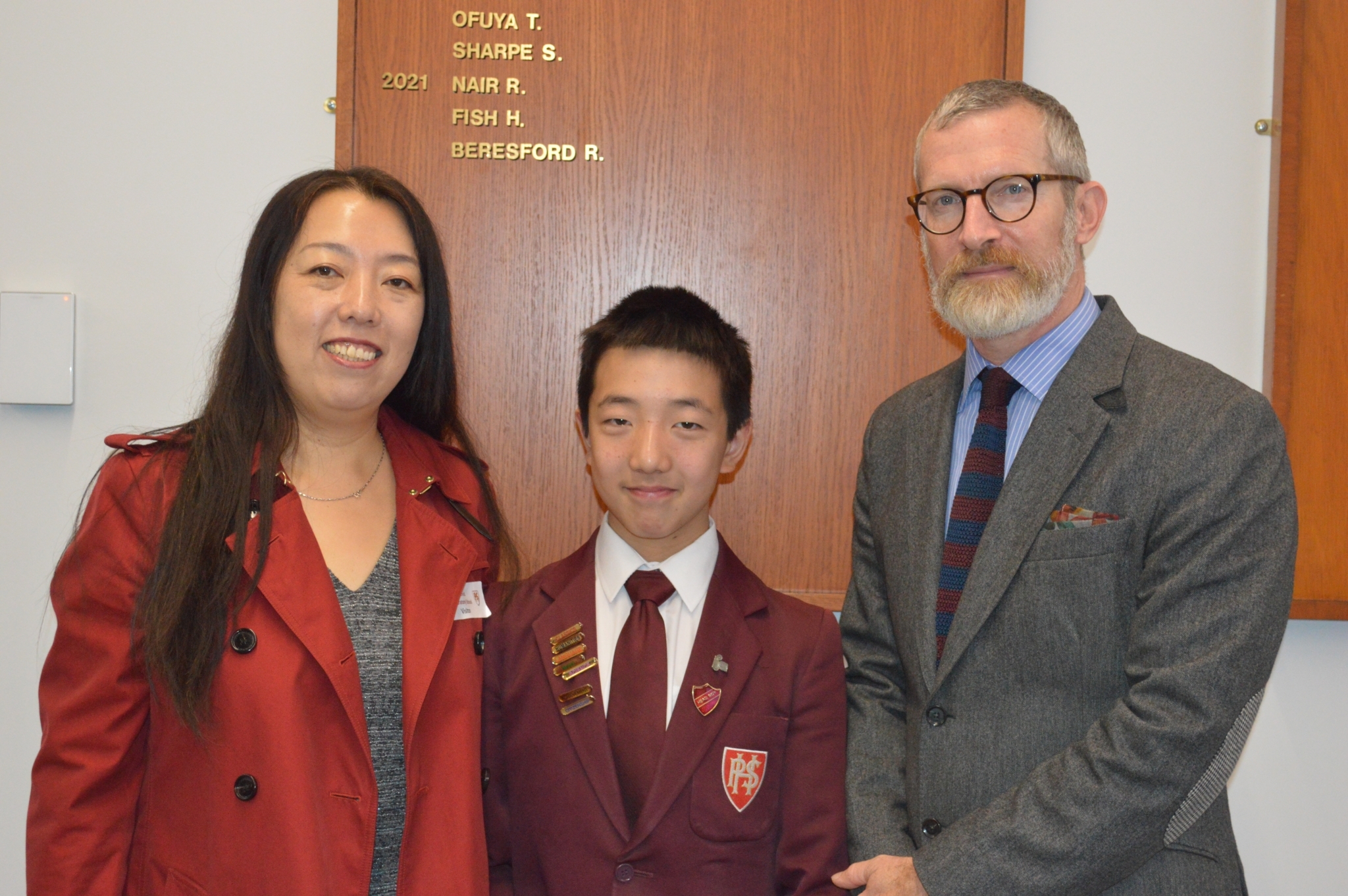 Dr Yuan, Andrew and Mr Towers
Finally, thanks for the very big turn out to both our parent seminars on 'managing boys' behaviour' and to my annual round up on all things senior transfer this week.
John Towers

Headmaster