We deliver outstanding educational provision and in Reception we work in close partnership with our community to ensure we create the very best learning environment. By the time the boys move on to Year 1 they have developed in confidence and are well prepared for the next stage of their educational journey. We were rated as 'excellent' in every area by ISI during their last inspection.
Our boys benefit from specialist lessons in Sport, Music and French and have access to all areas of the main school, whilst also having a special section of the school to call their own. This provides a very special offer to the boys with access and coaching beyond regular EYFS provision. We look at all learning environments, indoor and outdoor, as opportunities to explore learning as we believe that contact with the wider environment expands the boys' imagination, deepens their curiosity and encourages their motivation to learn.
Homefield deliver impressive outcomes. At the end of Reception, our boys achieve significantly higher than the national average for 'Good Level of Development' across all the Early Learning Goals: Communication and Language, Personal, Social and Emotional Development, Physical Development, Literacy and Mathematics.
We also offer a concise and bespoke phonics programme that ensures all boys make rapid progression with their reading.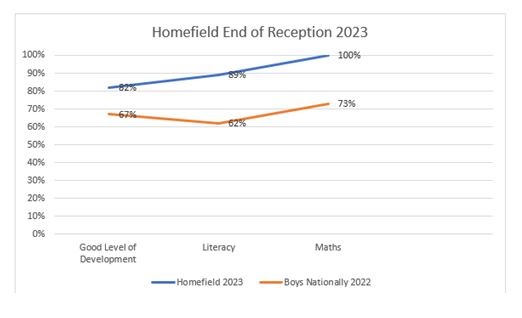 For boys joining us, we offer a series of 'Getting to Know Us' settling in sessions which have been a huge success.

"Our son had a fantastic time and could not stop talking to his family about how much he enjoyed Zumba dancing and playing outside. He is so excited to start school in September. Thank you so much for organising these sessions. We really appreciate the warm friendly atmosphere you created for us and for spending quality time with us. Special thanks for the yummy treats and the lovely gifts for the boys. Absolutely thrilled to be part of the Homefield family!"